INFORMATION
May. 20, 2020
New Product Lineup Announcement: Polymer PTC Thermistors
"PRCP-ASML/X
Series

" and "PRCP-NSML/X

Series

"
Thank you for your continuous support.
Our company are going to start the sales of the PRCP-ASML/X series and PRCP-NSML/X series, polymer PTC thermistors used as overcurrent protectors for industrial equipment, communication equipment, power supplies, air conditioning apparatus and motor in May this year.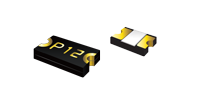 We added these miniature and low resistance series to the lineup of the polymer PTC (product name: P.R.C.P. series) we are selling now.
Compared with the conventional products, these products consume less power and save energy due to its low resistance. And because of the low voltage drop, it is easy to reduce the heat production and ensure the specified voltage.
Features
Small packaged type (size: 1005 mm or 3216 mm)
Low power consumption due to the low resistance
RoHS compliant and halogen free
C-US UL recognzed and TÜV certified
Main Specifications
Part number
PRCP-ASML/X series
PRCP-NSML/X series
Size
1005 mm
3216 mm
Mounting type
Surface mount type
V max
6 V
6, 12 V
I max
50 A
I hold (at 23℃)
0.1~0.5 A
1.5~6.0 A
I trip (at 23℃)
0.3~1.0 A
3.0~12 A